Jetzt noch was mit Zombies.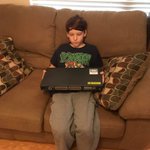 xKaliSec The kid wanted a switch for his birthday, hummm but he doesn't seem to be happy ! 🤔 pic.twitter.com/mgA3Lvoijm
@i_am_fabs Die Aufmerksamkeitsspanne für einen Tweet liegt unter 24h. Da machen Stories, die sich nach 24h löschen, keinen Sinn. 😉
JeanPaulBesser Irgendwie unglaublich, dass man 1/7tel seines Lebens mit Montagen verbringt.
Hartweizenhirn "Wie kommt man eigentlich auf die völlig bescheuerte Idee, sein Smartphone mit Käse zu überbacken, ey?"
"Toast Huawei!"
"…"
Die große helle Scheibe gibt heute alles. 🌞